Skip Main Content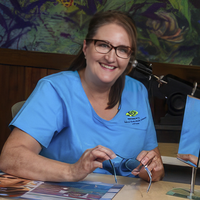 Rhonda Hodde, ABOC
ROLE:
Optician
SPECIALTIES:
LANGUAGES:
WE CARE ABOUT YOUR FEEDBACK!
Please take a moment and let us know how your experience was.
REVIEW US
Meet Rhonda Hodde, ABOC
---
Rhonda has worked in the eyecare business for over 34 years. She started out as an optician, then worked for Dr. Sala as a Pediatric Ophthalmic Technician and is now back to her roots as an optician specializing in children's eyeglass needs. Rhonda understands the profound effect that proper measurements, frame fitting and lens choice have on both vision and treatment of childhood eye conditions.
Rhonda is very passionate about educating parents regarding their role in the process of frame and lens selections as well as the importance of being positive and encouraging their child to wear their glasses. She instructs parents on proper cleaning, handling and how to detect when glasses are out of adjustment. Her expertise is not only shared with the children that purchase glasses at our optical but with any parent or patient that has questions about aspects involved in their child's new glasses.