Skip Main Content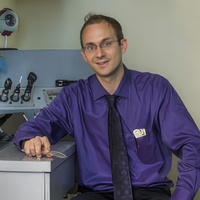 Nicholas A. Sala II, COA, CO
ROLE:
Orthoptist
SPECIALTIES:
Ophthalmology,
Pediatrics
LANGUAGES:
WE CARE ABOUT YOUR FEEDBACK!
Please take a moment and let us know how your experience was.
REVIEW US
Meet Nicholas Sala II, COA, C.O.
---
Nick graduated from Penn State University in 2008 with a Bachelor's degree in Biology. He spent several years working in the medical field prior to enrollment to orthoptic program at the University of Buffalo where he studied childhood vision development and pediatric eye disease. He graduated and achieved certification by the American Academy of Certified Orthoptics (AACO) in 2016 and has been working at Pediatric Ophthalmology of Erie ever since as a proud member of Dr. Sala's team.
Nick acts as Dr. Sala's Pediatric Eye Disease Investigation Group (PEDIG) study coordinator and helps recruit patients for nationwide studies funded by National Institute of Health (NIH). He also maintains his certifications with Joint Commission on Allied Health Personnel in Ophthalmology (JCAHPO) through yearly meetings with continuing education credits as well as with AACO and enjoys presenting new research topics. He has grown up in Erie and is passionate about community eye care. Nick enjoys helping with elementary school vision screenings, education and is always available to answer any questions in that regard.