Skip Main Content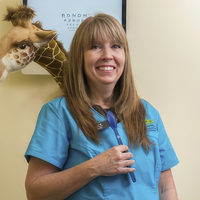 V. Lori Zeto, CO
ROLE:
Orthoptist
SPECIALTIES:
Ophthalmology,
Pediatrics
LANGUAGES:
WE CARE ABOUT YOUR FEEDBACK!
Please take a moment and let us know how your experience was.
REVIEW US
Meet V. Lori Zeto, CO
---
Lori has been an orthoptist since 1997, working alongside Dr. Sala since 2003. An orthoptist evaluates and treats patients with eye muscle disorders. Orthoptist's serve patients of all ages, but because of the nature of many eye muscle disorders, a lot of the patients are children. Adult care in the field of orthoptics is rewarding and challenging treating patients with prisms and /or exercises to help with double vision and eye muscle disorders.
Lori is originally from Newfoundland, Canada but has lived in Erie since 2003. She graduated from the IWK hospital in Halifax, Nova Scotia in 1997. She has a Bachelor of Science (Honors) from Memorial University. She has a degree in Orthoptics and Certified Ophthalmic Medical Technology. She presented a poster at A.A.P.O.S. looking at the effectiveness of Bangerter filters in the treatment of amblyopia. She currently is a research coordinator for PEDIG. Lori is an American Orthoptic Council (AOC) and a JCAHPO certified ophthalmic medical technologist. She is a member of the American Association of Certified Orthoptists and the American Academy of Pediatric Ophthalmology and Strabismus
Lori and her husband, Shawn, have a son, Dominic, born July 31, 2007. They all love Erie, fishing and the Pittsburgh Steelers!