Skip Main Content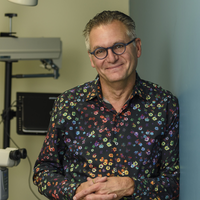 Nicholas A. Sala, DO
ROLE:
Pediatric Ophthalmologist
SPECIALTIES:
Ophthalmology,
Pediatrics
LANGUAGES:
WE CARE ABOUT YOUR FEEDBACK!
Please take a moment and let us know how your experience was.
REVIEW US
Meet Nicholas A. Sala, D.O.
---
Dr. Nicholas Sala has been practicing in Erie for over 20 years. He specializes in the medical and surgical treatment of both pediatric eye diseases and adult strabismus (crossed eyes). He concentrates on surgery to correct strabismus in children and adults, pediatric cataracts and glaucoma, tear duct obstruction and pediatric eyelid abnormalities including ptosis (droopy eyelids) surgery. He also evaluates premature infants for retinopathy of prematurity (ROP) at both N-ICUs.
Dr. Nicholas Sala and Pediatric Ophthalmology of Erie, Inc. are extremely active in research. He is a member of PEDIG (Pediatric Eye Disease Investigator Group), an organization of over 150 pediatric ophthalmologist across the US and Canada. He has won countless recruitment awards and continues to be a major contributor to the past and current research studies.
Medical School: Kirksville College of Osteopathic Medicine 1982-86
Internship: Metro Health Center 1986-87 Family Practice
Residency: Metro Health Center 1987-88 Ophthalmology
Residency: Flint Osteopathic Hospital 1988-91 Pediatric Ophthalmology
Fellowship: Children's Hospital of Michigan 1991-92
Certification: American Osteopathic Board of Ophthalmology - 1994
---
Dr. Nicholas Sala is a member in the following organizations:
American Association for Pediatric Ophthalmology and Strabismus (AAPOS)
American Academy of Ophthalmology (AAO)
American Osteopathic College of Ophthalmology (AOCO) – fellow
American Osteopathic Association (AOA)
Hospital Affiliations/Surgery Centers:
UPMC Hamot Medical Center / Hamot Same Day Surgery Center
Allegheny Health Network - Saint Vincent Health System / Saint Vincent Surgery Center
Village SurgiCenter