Skip Main Content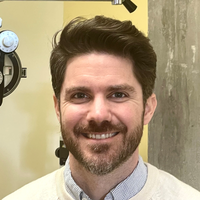 Wesley Cox, OD
ROLE:
Optometrist
SPECIALTIES:
LANGUAGES:
WE CARE ABOUT YOUR FEEDBACK!
Please take a moment and let us know how your experience was.
REVIEW US
Meet Dr. Wesley Cox
---
We are pleased to welcome Dr. Wesley Cox to Pediatric Ophthalmology of Erie, Inc. He will join us in early September 2020. He will assist Dr. Nick in providing comprehensive eye health and vision exams to children. Dr. Cox has a strong interest in Pediatrics and specialty contact lens fittings. Dr. Cox received his Bachelor of Science degree in exercise physiology form West Virginia University and his doctorate from Salus University-Pennsylvania College of Optometry. When searching for his next career move, he made it a priority to join a practice that aligned with his professional values. "I wanted to join a private practice that allows me to give my full attention and care to each individual patient, as well as a practice that gives me the freedom and resources to be the best optometrist I can be." Says Dr. Cox. Pediatric Ophthalmology of Erie, Inc. has presented a great opportunity for me to treat children in Erie. Dr. Cox is from Elizabeth, WV where he frequently visits his family and loves spending time with his niece and nephew. Dr. Cox is a die-hard fan of his alma mater's athletics, the West Virginia University Mountaineers and used to regularly attend its football and basketball games. Dr. Cox also enjoys the outdoors, including activities such as golfing, fishing and many others.